White Tailed Sea Eagle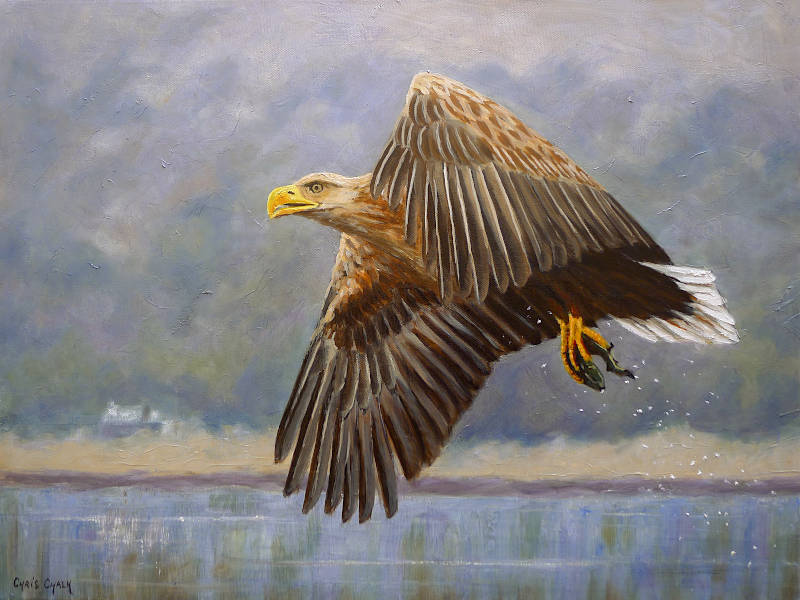 This painting of a white tailed sea eagle was inspired by a recent visit to the Isle of Mull, on the west coast of Scotland. The white tailed eagle - also known as the sea eagle or white-tailed sea eagle - is a huge bird with broad wings up to 245 cm (over 8 feet) wide. White-tailed eagles became extinct in Britain in the early 1900s and despite a lengthy re-introduction scheme, their numbers in Scotland are still very low.
The small population of white-tailed eagle in Britain is found only in the highlands and islands of the west of Scotland. Scottish white-tailed eagles prefer sheltered lochs or sea lochs rather than exposed coastal sites. They also prefer to nest in trees rather than on cliffs. On average, their territories range from 30 - 70 km2, but much larger territories are possible depending on the availability of prey. In Britain, white-tailed eagles are non-migratory. Breeding adults stay close to their breeding territory throughout the year. Non-breeding birds may range quite widely to find sufficient food.
| | |
| --- | --- |
| Title | White Tailed Sea Eagle |
| Medium | Oil on stretched box canvas |
| Size | 24 x 18 inches (65x45 cm) |
| Price | £450 unframed |
| Status | Available |
Painted on Loxley Gold stretched canvas - This painting can be framed or hung un-framed.