How To Commission a Painting
Commissioning a oil painting is a easy process, and you can commission a landscape painting, wildlife painting or pet portrait painting from wherever you are in the world. There are many reasons why someone might commission an artist to paint them a specific painting:
As a memory of a special place.
As a memory or tribute to a loved one.
As a memory or tribute to a beloved pet.
For a personal gift.
For a leaving work colleague.
Or if you have something in mind, but you can't find the painting to match your idea.
Follow the steps below and I'll guide you through the process.
1) Chose Your Canvas Size
The first thing to think about is what size painting you'd like. If you're not sure and need help choosing, just contact me. Use the chart below as a guide, sizes other than those listed are available and can be quoted upon request. Prices are the same whether you'd like a landscape painting, seascape, pet portrait, or wildlife painting.
Size (inches/mm)
Price (GBP)
12 x 10 inch (305 x 254mm)
£325
16 x 12 inch (406 x 305mm)
£375
20 x 16 inch (510 x 406mm)
£475
24 x 18 inch (610 x 460mm)
£590
30 x 20 inch (760 x 510mm)
£690
40 x 20 inch (1010 x 500mm)
£950
36 x 24 inch ( 915 x 760mm )
£1100
40 x 30 inch (1010 x 769mm)
£1290

Each additional pet or animal ( i.e., more than one pet or animal in your painting ) + £75 per pet/figure.
If you'd like a specific size canvas, just contact me for a quote.


2) Get In Touch
Once you've decided which size painting you'd like, get in touch and we can discuss your requirements. I operate with a waiting list, but I'll be able to tell you a approximate finish date for your painting straight away.

Email: chris@chrischalkart.com
Telephone: 01239 615865
Mobile / WhatsApp: 07772731663

Chris Chalk - Art Studio
18 Heol Ty Newydd
Cilgerran
Pembrokeshire
SA43 2RT
Wales
UK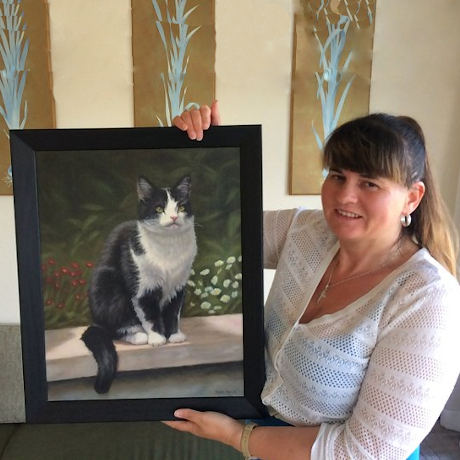 Ben, a beautiful cat I had the privilege of painting.
3) Chose Your Photographs
Above are three separate client photographs of their 3 dogs.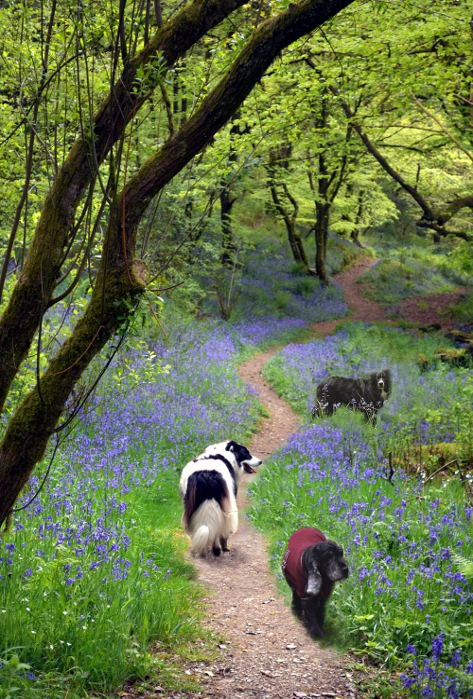 Here I've edited those three separate images, and placed all three dogs in the same image/composition using Photoshop.
Pet portraits, wildlife and landscape painting commissions can be painted from your own photographs, as long as they are good quality images. If you're unsure your photographs are good enough, just email them through to me and I can take a look. If you need help taking a nice photograph of your subject I can give you some great tips on that too.
You can see from the example images above, it's possible to make a nice composition using different photographs, and alter or move various elements around until you're happy with a composition before I begin on your painting.
If your commission is a landscape painting and the scene that you'd like painted is relatively close to my studio here in west Wales, I'm happy to visit the location and gather any reference material we need to create your painting.
4) Place A Deposit
To secure a place on my waiting list a £75 deposit is required. I work on a first come first served basis, meaning my client painting list is in order of bookings taken. I'll just email you a deposit invoice when you're ready to book. There are 5 payment options:
Online bank transfer payment, B.A.C.S
All major credit/debit cards
Paypal account
UK cheque or cash
In person at my studio using all major credit/debit cards via iZettle card reader.
5) The Painting Process
As I paint your commission I'll email you through photographs of my progress at various stages, that way you can see how your painting is coming along and get the chance to suggest any alterations or tweaks that you may like to see. It's always easier to make any changes if there's something you don't like, or something you'd like adjusted, at these earlier stages rather than when the painting is nearer completion.
6) Time Frame
Your painting will take approximately 6 weeks to paint, which includes drying time. The start date however, is dependent on my work load at the time, but I'll let you know this when you first enquire.
7) Framing
Original paintings, prints and commissioned paintings are sold unframed on this website, unless stated otherwise. If you'd like your painting or print framed however, I can arrange that for you.
Professional framers, Geoff and Candy Taylor of 'Cottage Harmony Framing Company', are based locally in Blaenporth and carry out all my picture framing. They have a wide variety of frame mouldings in stock, and a vast choice from their suppliers, any of which can be ordered specifically for you. Alternatively contact me to discuss your framing options.
8) Final Payment
Once your painting has been finished, any adjustments you requested have been made, and you are completely happy with the results, I will email you a final invoice for the remaining balance.
9) Delivery of Your Artwork
Postage & packaging on all commissions is included in the price for delivery within mainland UK. International postage prices will need to be quoted individually though, according to size and destination location.

FRAMED paintings will incur a additional postage and packing charge due to the extra weight/size.
You can find out more about delivery of your painting here.
10) Client Photographs
It's always nice to see photographs of my clients with their finished paintings. This stage isn't necessary of course, but should you like to email me through a photograph of yourself with your painting, sometimes, with your permission, I add these to my client testimonials page.