How To Commission a Painting
Commissioning a painting means: I paint you something you want, rather than you buy something I've already painted. It's an easy process, and you can commission a landscape painting, wildlife painting or pet portrait painting from where ever you are in the world. I enjoy working with my clients, from the initial request through to the finished painting. The following explains how the commission process works, and if you have any questions don't hesitate to contact me.
1) Chose Your Canvas Size
Sizes other than those listed below are available and can be quoted upon request. Prices are the same whether landscape, seascape, pet portrait, or wildlife painting.
Size (inches/mm)
Price (GBP)
8 x 6 inch ( 200 x 150mm )
£200
12 x 10 inch ( 305 x 254mm )
£300
16 x 12 inch ( 406 x 305mm )
£375
20 x 16 inch ( 510 x 406mm )
£450
24 x 18 inch ( 610 x 460mm )
£575
30 x 20 inch ( 760 x 510mm )
£650
30 x 24 inch ( 760 x 610mm )
£750
36 x 24 inch ( 915 x 760mm )
£875
40 x 20 inch ( 1010 x 500mm )
£950
40 x 30 inch ( 1010 x 769mm )
£1250

Each additional pet or figure ( i.e., more than one pet or figure in your painting ) + £70 per pet/figure.
If you'd like a specific size canvas, just contact me for a quote.


2) Get In Touch
Get in touch by email, by phone, or in person if you'd like to visit my studio, and we can discuss your painting enquiry.

Tel: +44 (0)1239 615865
Mobile: 07772 731663
Email: chris@chrischalkart.com

Chris Chalk - Art Studio
18 Heol Ty Newydd
Cilgerran
Pembrokeshire
SA43 2RT
Wales
UK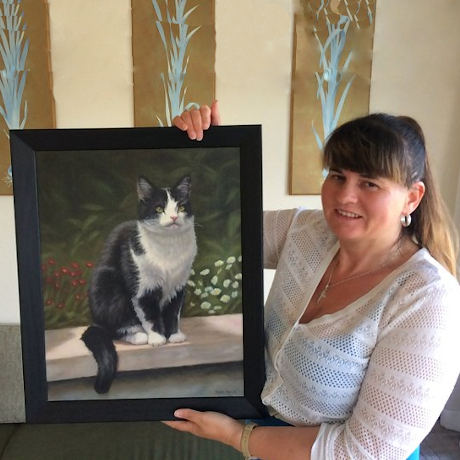 Ben - framed pet portrait commission with happy client.
3) Chose Your Canvas Type
Oil painting commissions are painted on museum quality fine art stretched cotton canvas (stretched canvas, means that the canvas is pre-stretched and pinned on wooden framework).
There are 2 canvas depth types available:
a) 1 1/2 inch (38mm) depth box canvas (canvas sides can be painted so that framing is not required).
b) 3/4 inch (15mm) depth standard canvas (if you wish to have your oil painting framed).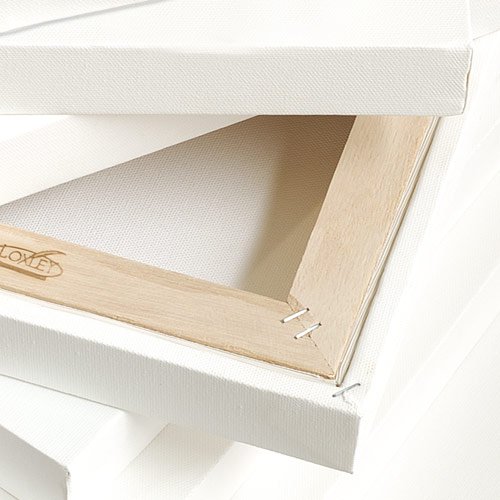 1 1/2 inch (38mm) Depth Box-Canvas
3/4 inch (15mm) Depth Standard Canvas
4) Place A Deposit
To secure your place on my waiting list a £100 deposit is required. I work on a first come first served basis, so my client list is in order of bookings taken. Once you've confirmed you'd like to go ahead, a deposit invoice is emailed to you. There are 5 payment options:
1) Online bank transfer payment, B.A.C.S
2) All major credit/debit cards
3) Paypal account
4) UK cheque or cash
5) In person at my studio using all major credit/debit cards via iZettle card reader.

Find out more about making payments here.
Online bank transfer is the easiest form of payment and I will include details in the invoice.
5) Chose Your Photographs
3 separate client photographs supplies for a 3 dog pet portrait.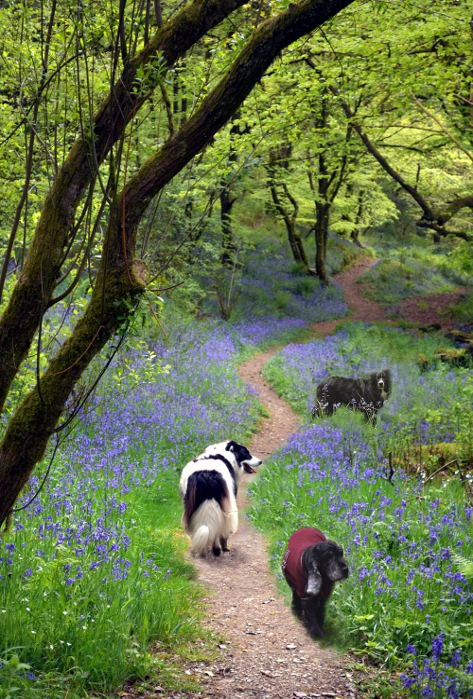 Photoshop mock-up where I placed the 3 dogs in 1 composition.
See the oil painting produced from the images above here.
Pet portraits, portraits, wildlife paintings and landscape painting commissions can be painted using your own photographs as a reference, as long as they are of good quality. If you're unsure whether your photographs are of a suitable quality, just email them through to me and I can take a look. If you need any advice on taking a nice photograph of your subject, I can give you some great tips and help you with that.
As you can see from the example images above, it's possible to make up a composition from lots of individual photographs, then alter and move various elements around until you're happy with the composition, before we begin on your painting.
If your commission is a landscape painting, and the scene that you'd like painted is relatively local to my studio, here in west Wales, I'm happy to visit the location and gather any reference material needed to create your painting for you.
6) Time Frame
Your painting will take approximately 6 weeks to paint, including drying time. The start date however is dependent on my schedule and work load, but I will let you know this when you enquire.
7) Framing
Original paintings, prints and commissioned paintings are sold unframed unless stated otherwise. If you'd like your painting or print framed however, I can arrange that for you.
Professional framers, Geoff and Candy Taylor of 'Cottage Harmony Framing Company', are based locally in Blaenporth and carry out all my picture framing. They have a wide variety of frame mouldings in stock, and a vast choice from their suppliers, any of which can be ordered specifically for you.
Or Contact Me to discuss your framing options.
8) Final Payment
Once your painting has been completed, I will send a final invoice for the remaining balance.
Find out more about making payments here.
9) Delivery of Your Artwork
Postage & packaging is included in the price for delivery within mainland UK. International postage prices will need to be quoted individually, according to size and destination location.

FRAMED paintings will incur a additional postage and packing charge due to the extra weight/size.
Find out more about delivery of your painting here.
10) Photos of Paintings
Once the painting has been received by the recipient I post the painting on my website and my Facebook art page (unless you would prefer not to have your painting posted online). I always enjoy seeing photos of the paintings in situ, particularly with the subject, and receiving testimonials from my happy clients.
My landscape painting commission being presented to recipients at Elenydd Wilderness Hostels open day 2015.