Hello and welcome to the online gallery of professional Welsh Artist, Chris Chalk. In the links above you will find a collection of Landscape Paintings, Pet Portraits, Portrait Paintings & Wildlife Art.

Browse through galleries of original oil paintings, visit the prints page to buy limited edition prints of Chris' work, or simply email Chris to discuss commissioning your own original oil painting.

Commissioning your own original painting is an easy process, and you can commission a Pet Portrait, Portrait Painting or Landscape Painting:
do you have a favourite photograph you'd like painted?
email it through for a free no obligation quote.
find out more about commissioning a painting here.
In The Press
Read Chris' recent interview with the Marlborough Express.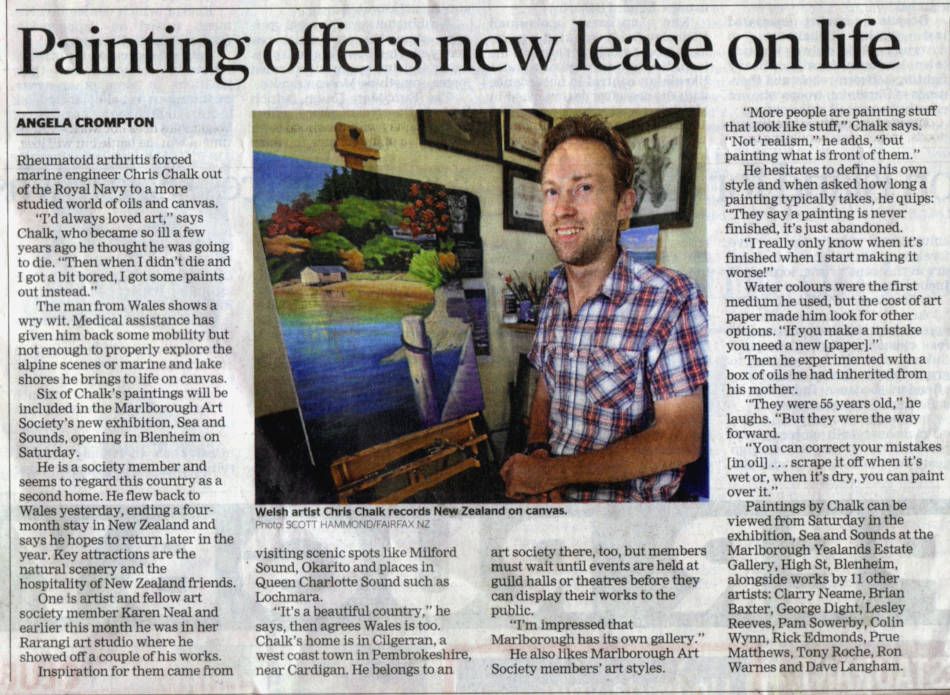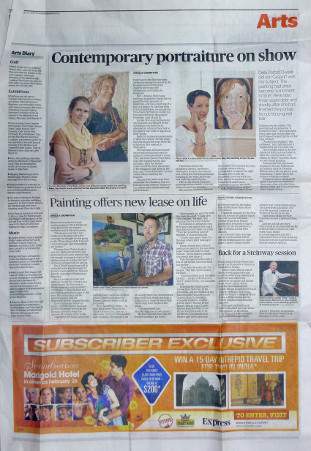 Client Testimonials
View more photographs and client testimonials on the testimonials page here.
"I am delighted with the pictures which represent a great example of your skill and artistic talent. They also remind me so much of happy times spent in West Wales many years ago."

David Williams
Christchurch
Dorset
UK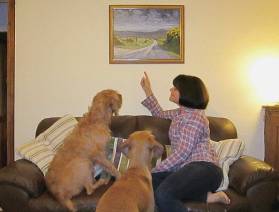 "Hi Chris, postie has just delivered my beautiful painting!!! all safe and sound......looks fabulous! thank you so much, now to hunt down a really nice frame to set it off, can't wait to show Martin when he gets home, I know he will love it too - THANK YOU!!!"

Kay Prior
East Sussex
UK
"After you left, I decided that it would be a shame not to have at least one hanging where I can see it and gain so much pleasure from it straight away, so I have managed to put 'Cenarth' in the dining area. It does look lovely, it really does, what a talent you have."

Sandra Griggs
Pembrokeshire
Wales
Latest News
Find out where Chris' latest painting adventures have taken him, which paintings are on his easel right now, as well as the latest news about exhibitions and events, on the news & exhibitions page.
Six of Chris' paintings will be on show at the Yealands Estate Gallery in Blenheim, New Zealand:
20th Feb - 15th March 2015.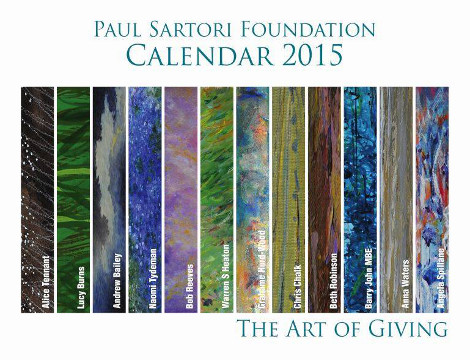 Last year Chris and twelve other Pembrokeshire artists were involved with the Paul Sartori Foundation, in a fund raising art auction and 2015 calendar.

Chris have produced the wildlife cover artwork for two editions of national Welsh wildlife magazine 'Natur Cymru - Nature of Wales'.
Chris' painting 'Nepalese Basket Girl was used on the cover of UK magazine 'Magnet' - Published by Hymns Ancient & Modern Ltd, summer 2014 edition.
Scenes and Inspiration
All the places shown on this website were visited by Chris, details were taken, sketches were made, the results are the paintings you see. Paintings of Pembrokeshire, Ceredigion & Carmarthenshire, as well as paintings of North Wales and Snowdonia National Park predominate.
Like other Welsh artists Chris is inspired to paint the beautiful rugged coastline, and you will find local beach paintings include the villages of Llangrannog, Mwnt, Cwmtydu, New Quay, Aberporth, Tresaith and Aberaeron. Heading south from Cardigan there are also landscapes and seascape paintings of Pembrokeshire and it's beaches and villages, including Poppit beach, Ceibwr bay, Newport, Fishguard, Lower Fishguard Harbour, Strumble and on down the Pembrokeshire coastline.
As well as painting Welsh seascapes and coastal art, you will find paintings of the upland areas of rural Mid and West Wales, including the Preseli Mountains, Pembrokeshire National Park, the Teifi valley and further west into the Tregaron and Cambrian mountains.


Subscribe to my E-Newsletter
( It's Free! )
Get the latest news and be the first to see Chris new work: You'll receive about 6 newsletters a year with information on shows, new paintings, new painting videos, and events.
Site updated by Chris Chalk: 1st March 2015