About - Art Studio - Articles - Exhibitions - Painting Videos
I have always had a fascination with wildlife, nature and the outdoors, and growing up on a dairy farm in west Wales I spent much of my time roaming the fields and woodlands, sketching, and painting anything that would stay still long enough to let me.
When I left school at 16, I started work as a gamekeeper on Lord Harlech's estate, in Oswestry Shropshire. The hours were long and the work was hard, but my main focus was to be immersed in nature. Over this early period in my life my passion for art was always with me, and I used to paint and draw when I could, but in truth there weren't enough hours in the day.
Craving Adventure
With my sister. Passing out parade, HMS Raleigh, Plymouth 1992.
Shipmates, HMS Montrose, Instanbul 1994.
Craving adventure, I changed career path in my early 20's and joined the armed forces, serving as a marine engineer in the Royal Navy for 5 years. During my naval service I developed severe rheumatoid arthritis, which cut short my career, and saw me medically discharged out of the Navy in the late 1990's.
Undaunted
Over the southern alps, flying into New Zealand.
Kiwi spotting, Okorito, West Coast, New Zealand.
Undaunted, and my quest for adventure still burning strongly, I bought a plane ticket with my final naval paycheque, grabbed my rucksack, and set off south to New Zealand. I'd planned to stay a year, but as these things have a habit of doing, 1 year led to 2, 2 years to 3, ..and I ended up staying south of the equator for the next 6 years, living in both New Zealand and Australia.
Fortunately, this period gave me much more time to once again pick up the brush and paint, and whilst living in Melbourne, in Australia, I studied art at the CAE. It was at this time, in the early 2000's, that art became the major driving force in my life, and when I made the decision to move back to the UK to paint full-time.
Back Home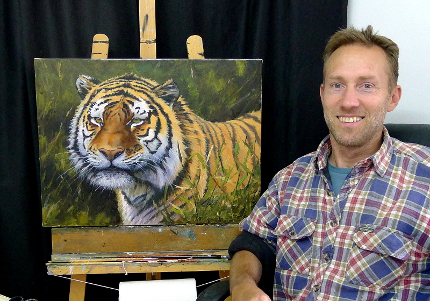 At home in my studio.
Painting HQ.
My art studio in Cilgerran is my operations HQ, where clients can come a visit, view and buy my work, and where most of my painting is done. Paintings are worked up from small oil painting sketches painted out in the field using a pochade box, and from photographs I've taken on my adventures in Pembrokeshire, Ceredigion and further afield in Wales, most often a combination of both.
You can see from the paintings on this website that I paint a variety of subjects, from landscapes to wildlife art, I also undertake pet portrait and portrait commissions.
Enjoy looking around my website, and if you have any questions about me or my work, or would like more information about commissioning a painting, don't hesitate to get in touch.

Chris