Paintings, videos and instruction on how to create a beautiful oil painting. Watch step by step as Chris' oil paintings develop from the first brush strokes to the finished artwork, including plein air painting videos. Follow the paintings that are on my easel and that I'm working on in my studio right now.
( Updated 15th August 2014: NEW 'Little Blue Fishing Boat' Painting Available Below! )
Little Blue Fishing Boat | 14x10 inches | Oil on Hardboard - Following on from my previous pochade box boat painting below, I've been back down to the beach with my paints again in the last couple of days. This little blue fishing boat study is one of the paintings I completed, an oil sketch, I painted this reasonably quickly and quite loosely to try and capture the scene as it was at that moment - no messing about with small bushes or too much fiddly detail.

I really happy with the results, and had great fun with this little painting. If you like it too, you can buy it very easily by clicking on the 'Buy Now' button below, and you'll have it within 3 days.

You can watch a YouTube video I made whilst painting 'Little Blue Fishing Boat' here.
---
Plein Air Boat Painting, 14'' by 10'' - As the weather has been so nice of late, I've spent a lot of time out of the studio painting plein air. One of my favourite painting spots is at Patch, a local beach, and where the river Teifi meets the sea. For this oil study I used my trusty pochade box, and very handly was able to paint from the comfort of my car.

You can see more painting videos on my Youtube Channel Here.
---
Ploughing Horses, 30'' by 20' - A large..ish painting of horses ploughing a field. I'm just laying in some paint and gradually working out the composition as I go.
Update - this painting is very nearly finished now, just some work to do in a few places, the ploughman, the manes, e.t.c.
---
New Quay Commission, 26'' by 24'' - Here I am starting a large painting of New Quay, which is a beautiful coastal village here in West Wales. This stage mainly involves blocking-in the large areas of the canvas with approximately the right colour.. in approximately the right place. This is great fun, and there isn't any pressure at this stage of a painting, as nearly everything you can see here will be re-painted/painted over at a later stage and as the painting progresses.

Painting completed - SOLD
---
3 Welsh Beaches, 10'' by 5'' Box Canvas - As you will have no doubt noticed... there are only 2 paintings started on my easel here, the 3rd painting is waiting to be started. This is a new project I'm embarking on, to paint a series of smaller paintings, which can be bought individually or as a set of three. The first trio are some of my favourite beaches here in west Wales: Mwnt, Poppit, and ? ( to be decided ).

These paintings will be priced at £98 each, or £260 for a set of three. So if you have 3 favourite scenes you'd like painted as these smaller original oil paintings, let me know what they are.. and I'll paint them for you!




The 3 paintings in the 'West Wales Collection' and now finished, deciding to paint beautiful 'Tresaith Beach' in Ceredigion, as the third painting. These paintings are available and ready to ship, find out more about these paintings and how you can purchase the West Wales Collection Here.
---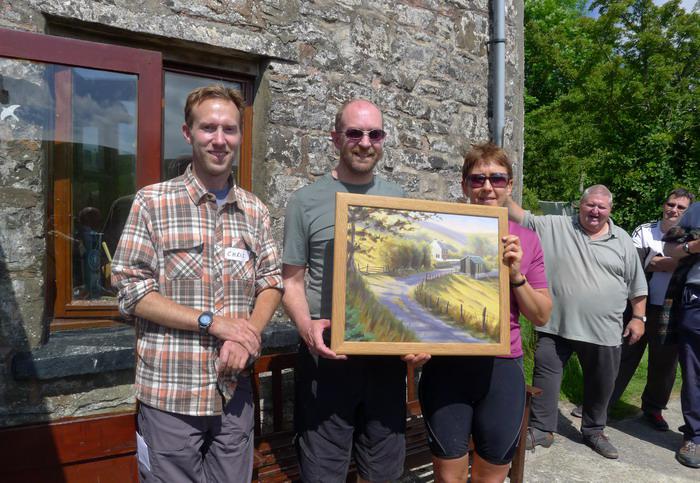 Hostel Commission 20'' by 16'' - This is a painting of one of the Elenydd Wilderness hostels, high up in the Cambrian mountains of Wales. In this first stage I've just blocked in the shapes very loosely, in something close to the right colour and tone. The next stage is to refine and adjust what's already here, leaving all the details and highlights until much later.

The finished painting was presented to it's new owners at the Elenydd Wilderness Hostel Trust, Ty'n Cornel Hostel.