March 2015: Marlborough Express Interview
Whilst on my recent painting adventures in New Zealand I was interviewed by the The Marlborough Express, about my involvement in the 'Sea and Sounds' exhibition at the Yealands Estate Gallery in Blenheim.
Click on the newspaper images for a larger readable versions.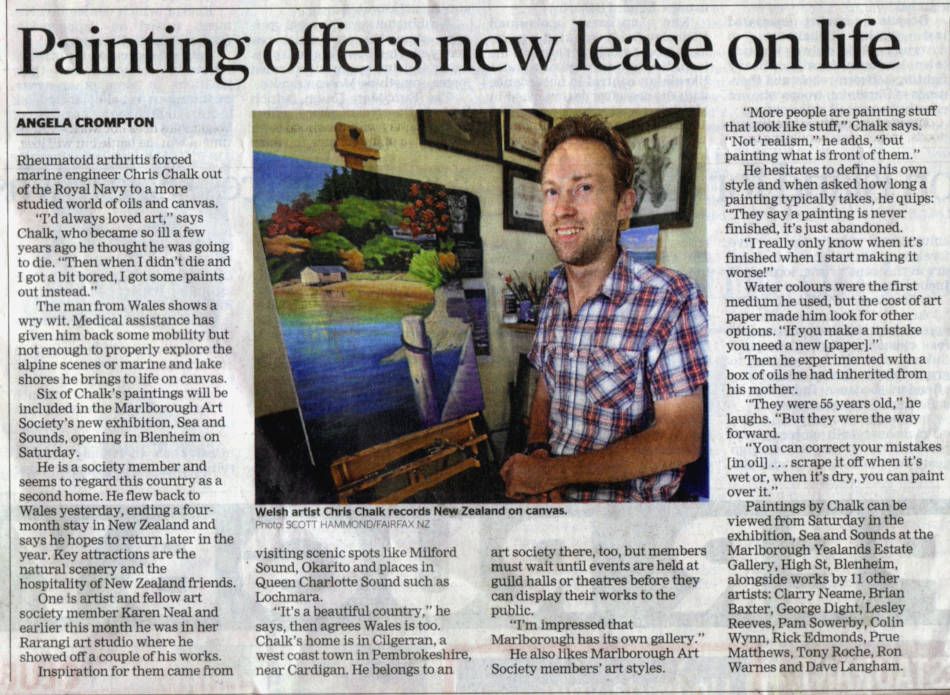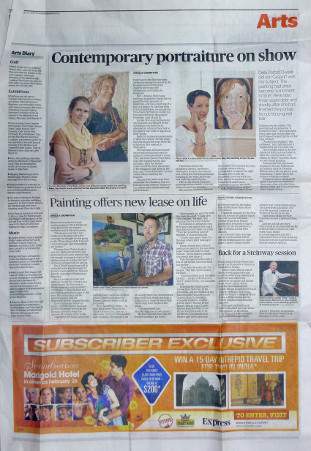 Feb 2015: 'Sea & Sounds' Exhibition - Feb 21st to March 8th 2015
I'm back in Wales now, following my latest painting adventures in New Zealand, and honoured to be having six of my paintings exhibited in the Marlborough Yealands Estate Gallery alongside some of New Zealand's finest artists. The exhibition runs from the 21st of February, to the 15th of March, and all artworks are inspired by the beauty of the Marlborough sounds.

The Marlborough Sounds covers some 4,000 km² of sounds, islands, and peninsulas, and lie at the South Island's north-easternmost point, between Tasman Bay in the west and Cloudy Bay in the south-east - Read more on the Marlborough Sounds wikipedia page here.

Nov 2015: Painting Trip to New Zealand
I'm away on a painting trip in New Zealand at the moment, and here are 4 small oils painted here over the last month - The top two are local scenes.. Rarangi Beach in Marlborough. The bottom two were painted as an exercise, using just my imagination, no reference material. The idea being to make a few initial loose brush marks, and then let the painting dictate where it wants to go. Don't ask me where the snow scene emerged from, my response to the hot weather here at the moment perhaps.

Paul Sartori Foundation Fund Raising Auction & 2015 Calendar
Over the last few months 12 of Pembrokeshire's finest artists have been involved with the Paul Sartori Foundation in a fund raising art auction and 2015 calendar. My painting 'Fishguard, Pembrokeshire' is 'Autumn' in the calendar, and will be auctioned, along with the others, at the 2014 Pembrokeshire County Show ( Tuesday 19th, Wednesday 20th & Thursday 21st August 2014). I've had a sneak-peek at the calendar and it's superb, and at a minimum donation of £5 you can have 12 of the best artist's paintings hanging on your own wall, and all proceeds go toward the foundation.
Find out more about the Paul Sartori Foundation here.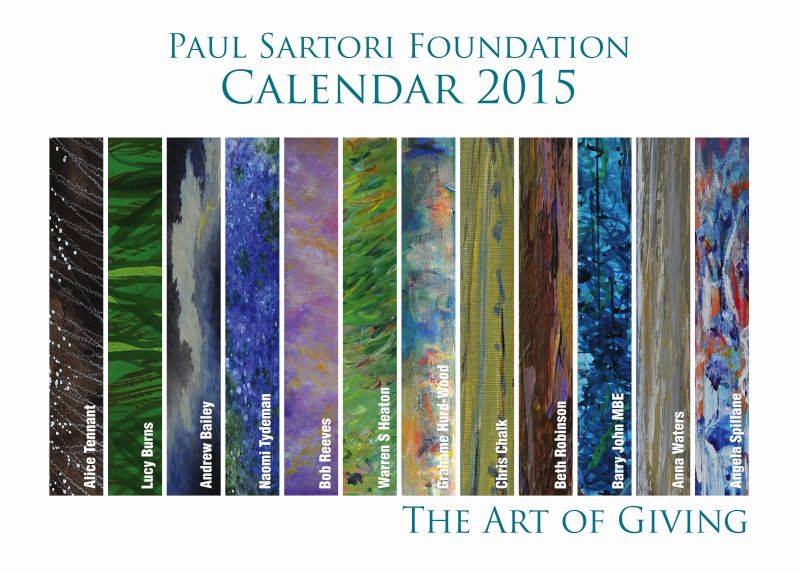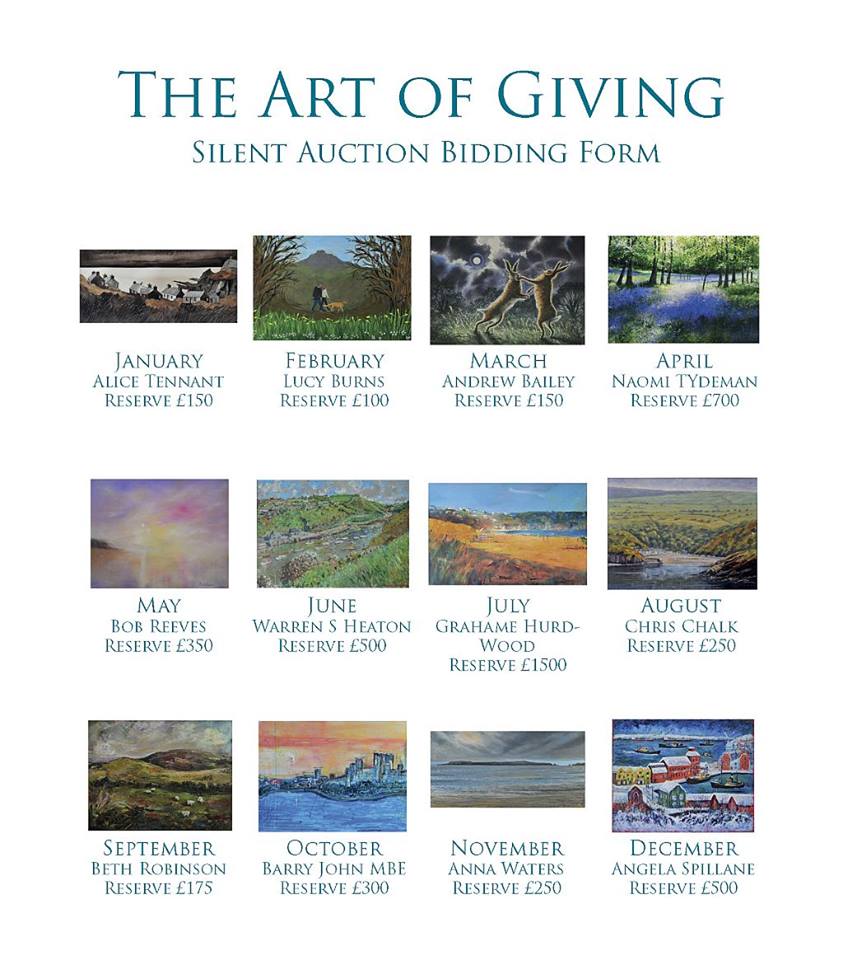 Cardigan Art Society - Guildhall Summer Exhibition 2014
This year's second CAS summer exhibition is being held at the Cardigan Guildhall, in Cardigan, where I'll be exhibiting two original paintings, "Sunshine at Mwnt" and "Carningli, Pembrokeshire".
Open to the public from the 28th July - 2nd Aug, there is a superb standard of work on display.


Magnet Magazine Cover Art - 8th July 2014
A few months ago I was approached by the editor of UK magazine 'Magnet' - Published by Hymns Ancient & Modern Ltd, and asked if they could use my painting 'Nepalese Basket Girl' under licence for the cover of their summer 2014 edition. I think the team at Magnet did a great job, here are the results...
Ty'n Cornel Painting Presentation - 21st June 2014
I was recently commissioned by the Elenydd Wilderness Hostel Trust to paint 'Ty'n Cornel', one of their hostels high up in the Cambrian Mountains of Mid Wales. Originally a Welsh farmhouse, for many years a Youth Hostel Association Hostel, and now a independent hostel owned and run by the Elenydd Wilderness Hostel Trust. I was asked if I'd come along to the presentation, held today on the terrace at Ty'n Cornel in wonderful summer sunshine.

Visit their website and find out more about Elenydd Wilderness Hostel Trust here.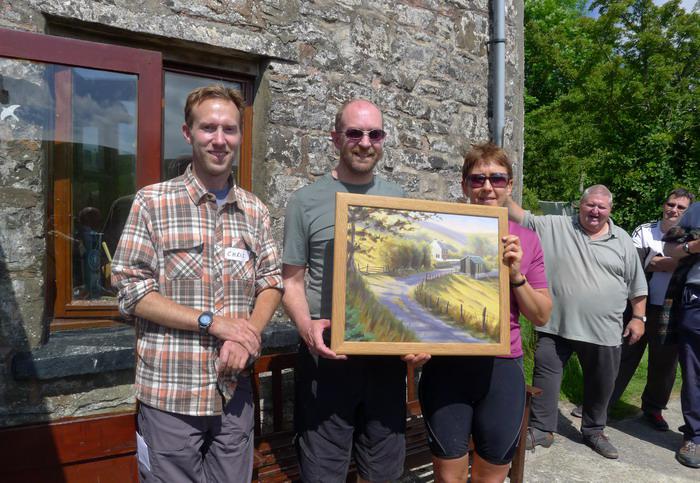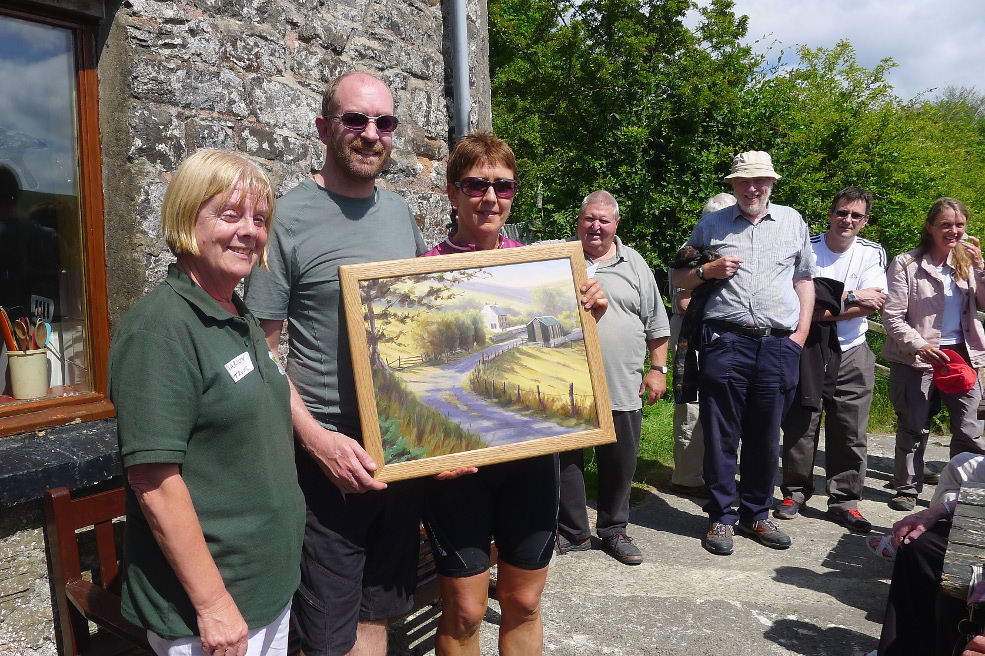 CAS Cardigan Art Society - Summer Exhibition 2014
This years CAS summer exhibition is the 50 year anniversary show, and is being held in the Mwldan Theatre in Cardigan. Open to the public from the 24th May - 21st June, there will be a wide variety of locally produced art on show.
Everyone is welcome!

I will be showing two paintings this year:
( left ) 'Afternoon Stroll - 24" by 18", Oil.
( right ) 'A Bay to Remember' - 16" by 12", Oil.
Beside one of my paintings at the Cardigan Art Society summer Exhibition at the Mwldan Theatre, Cardigan.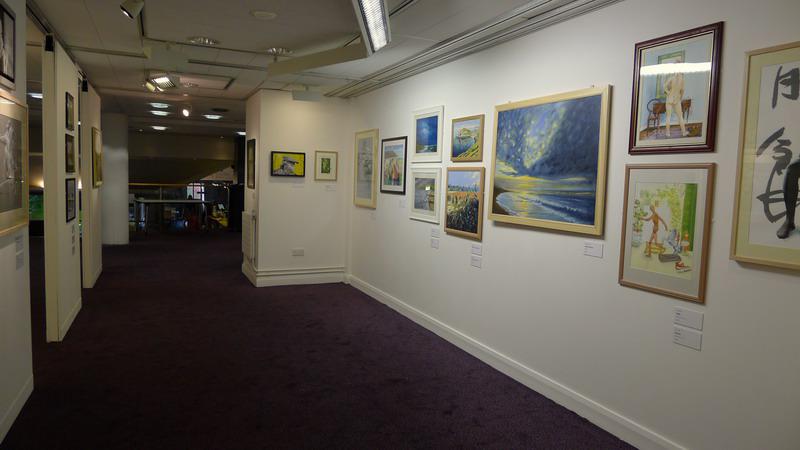 Over 60 paintings on display at the Mwldan Theatre in Cardigan, on until 21st June 2014.
New Zealand Painting Trip - Jan/Feb 2014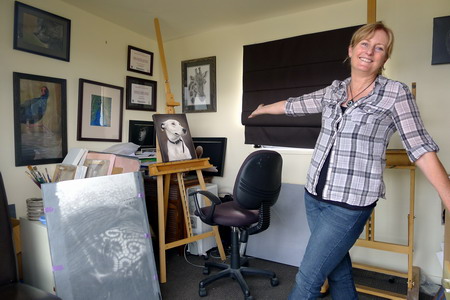 I was lucky enough to head-off to New Zealand for 6 weeks earlier this year to visit, and do a little painting with, fellow artist Karen Neal. Starting in Marlborough at the top of the South Island, we took a 2 week road-trip right around the South Island whilst I was there, heading down the West Coast, over to Stewart Island, and returning to Marlborough via the east coast. We both took 'a lot' of photographs, and we had some wonderful adventures, a few of which we made into a short video that you can see here -
Make sure your speakers are turned on!
Art Matters - Tenby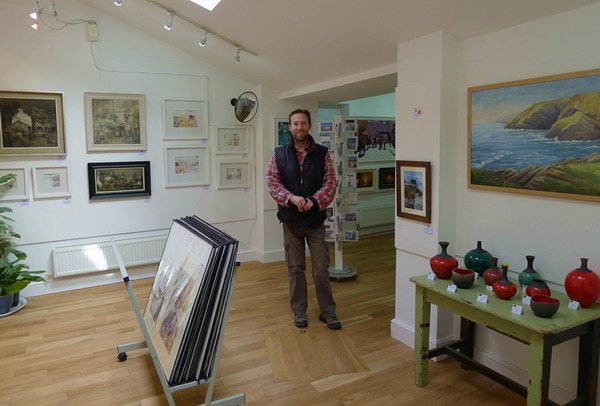 My work on display in 2012's spring exhibition 'renewal' at Art Matters, White Lion Street Gallery in Tenby.
Natur Cymru - Cover Art
I've created the cover artwork for two editions of Welsh wildlife magazine 'Natur Cymru - Nature of Wales'.
Natur Cymru is a magazine about nature and the environment in Wales, it's published published quarterly and is full of top quality articles and illustrations. You can find out more by visiting their website at - www.naturcymru.org.uk
The Artist's House
My work on display at 'The Artist's House' gallery in Milford Haven, a beautiful studio/gallery owned and run by fellow Pembrokeshire artist Anna Waters.