Welsh Artist Chris Chalk
Welcome to a selection of Landscape Paintings, Wildlife Paintings and Pet Portraits by Welsh Artist Chris Chalk. I am a professional artist with 10 years experience working from my art studio in West Wales. I paint landscape paintings of Wales and New Zealand, pet portraits and wildlife paintings of British birds, mammals and other world species, with an extensive selection of art for sale on this website.
Commissioning a painting is an easy process - if you would like to commission a pet portrait, wildlife or landscape painting, you will find more information and pricing on the Commissions page.
---
Client Testimonials
"After you left, I decided that it would be a shame not to have at least one painting hanging where I can see it and gain so much pleasure from it straight away, so I have managed to put 'Cenarth' in the dining area. It does look lovely, it really does, what a talent you have."

Sandra Griggs
Pembrokeshire
Wales, United Kingdom
""Hi Chris, Jackie loved her pet portrait painting of Ben. I managed to get it framed in a black wood grain chamfered frame, before Christmas and I wrapped it in gift wrap with another photo of Ben all over it; to make it an extra special gift. See attached photo of Ben with his Mum."

Liam Sparrow
Dunedin
New Zealand
"I am delighted with the paintings which represent a great example of your skill and artistic talent. They also remind me so much of happy times spent in Pembrokeshire West Wales many years ago."

David Williams
Dorset
United Kingdom

...read more testimonials >>
---
Art On Display
Welsh Wildlife Centre, Cilgerran
A selection of my original wildlife art and Welsh landscape art, as well as limited and open edition prints, is for sale and can be purchased from the Welsh Wildlife Centre in Cilgerran - Welsh Wildlife Centre, Cardigan, Pembrokeshire, Wales, UK, SA43 2TB. Tel: 01239 621600
Pendre Art Gallery, Cardigan
A selection of my original landscape paintings, wildlife paintings and prints are on display and for sale at Pendre Art Gallery in Cardigan along side other great Welsh artists - Pendre Art Gallery, 35 Pendre, Cardigan, Ceredigion, Wales, UK, SA43 1JS. Tel: 01239 615151
---
Art Studio Tips
Discover lots of great art tips to help you create your own beautiful paintings, whether you are a professional artist, a hobby artist or simply paint for fun. Find out how to photograph your artwork, find out how to sell your artwork, how to organise a great art studio, how to transfer a image onto your canvas or paper easily and accurately, and much more ...visit the art tips blog >>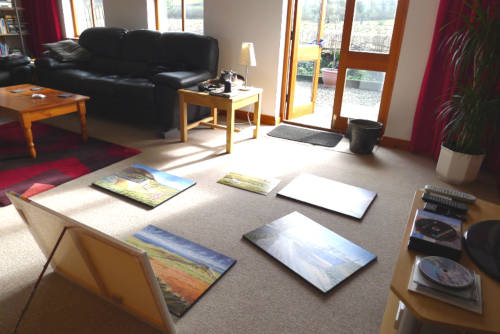 How to photograph your artwork and get great results, using your own camera in your own home.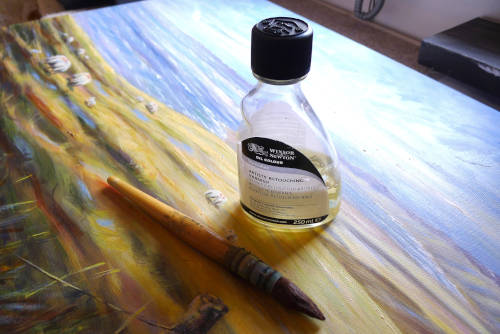 How to varnish a finished painting. Find out what types are available and how to apply varnish evenly to get a perfect finish.
How to paint with acrylics. Find out how to get started, what equipment you need, and what equipment you don't need.

---
Painting Videos
Find smaller landscape paintings on my oil sketches page, these were painted out in the field en plein air here in West Wales. Some of these painting sessions I recorded on video, and you can find these outdoor painting videos here. They show some of the beauty of the West Wales countryside that so inspires Welsh artists, and the enjoyment that can be had landscape painting outdoors ...watch more videos >>